Charlotte Grimes became the Knight Chair in Political Reporting in 2003, after a 25-year career as a journalist.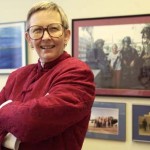 She retired in May 2014. The Knight Chair in Political Reporting was one of 22 special academic positions created at universities across the country with endowments by the John S. and James L. Knight Foundation. The mission of the Knight Chair in Political Reporting was to train the next generation of political reporters, serve as a resource for current journalists covering politics and to help find ways to engage the public in democracy and politics. Prof. Grimes taught  a political reporting course for journalism students and a news literacy course for non-journalism students. She continues to be  the administrator of The Robin Toner Program in Political Reporting, which awards the $5,000 Toner Prize. The Toner Program honors SU alumna Robin Toner, the first woman to be national political correspondent for The New York Times. Prof. Grimes' students' work was published on Democracywise, which was also a voters' resource to learn basic information about races and candidates.
Some highlights of Prof. Grimes' career:
In the Newsroom:
St. Louis Post-Dispatch, 20 years
Washington bureau of the Post-Dispatch, 12 of those 20 years
Radio news and newspapers in North Carolina and Virginia
Out of the Newsroom:
Ferris Professor of Journalism, Princeton University
Visiting Professor, S.I. Newhouse School of Public Communications, Syracuse University
Fellow, Shorenstein Center on the Press, Politics and Public Policy; Harvard University
Director, Semester in Washington/Scripps Howard Foundation Wire
Head of the journalism/communications program at Hampton University
Knight Chair in Political Reporting, Newhouse School, Syracuse University
Memorable Assignments:
"Lives of Faith" — Reconstructing the lives and deaths of five Catholic missionaries killed in Liberia's civil war
U.S. invasion of Panama
Democratic National Conventions '84 and '88; Republican National conventions '92 and '96
Assorted elections and campaigns
Missouri and Southern Illinois congressional delegations
Politics and policy of health care — especially the failed Clinton overhaul
Politics and policy of international trade — especially NAFTA
Assignments in Nicaragua, Mexico, China and Japan
The United Nations during first Persian Gulf war
Teaching:
Political reporting
News Literacy (COM 337 "Real News, Fake News: Literacy for the Info Age")
Lifelines:
Married to Tom Whitford, writer-turned-artist
Lived on a boat — the "Freelance" — for more than a decade
Lived in a Winnebago motorhome for three years
Remains a chocoholic who also loves mysteries, thrillers and science fiction
Still passionate about journalism and its role in democracy after all these years: "Journalism is an act of citizenship."
The Knight Chair in Political Reporting was created by an endowment from the John S. and James L. Knight Foundation.